Description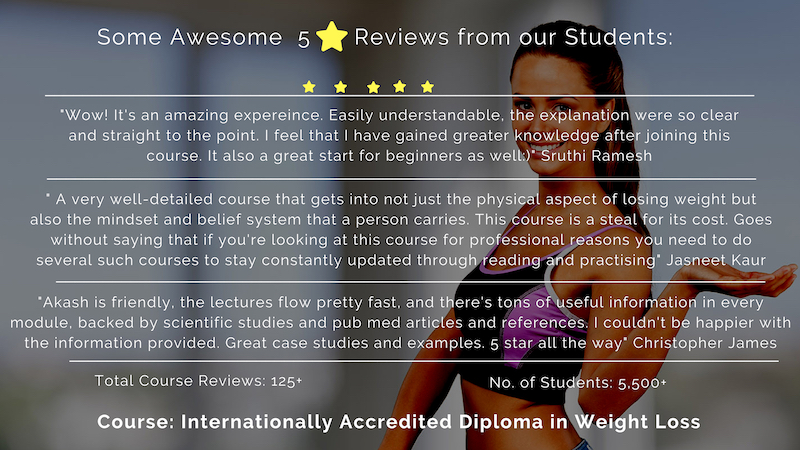 Now earn your Internationally Accredited Diploma in Weight Loss accredited by CPD Certification Service, which is an independent body that ensures qualifications are in line with the most current professional standards.
This means this course comply with universally accepted principles of Continual Professional Development (CPD) and have been structured to meet the criteria of personal development plans.
CPD certification means that the content and structure of the courses have been independently assessed and approved for multi-disciplinary and industry-wide continuing personal and professional development purposes.
Pass Mark: 50% to secure your certificate!
Course Pre-requisite: None
Course Duration: 1-4 weeks [You can complete it on your own pace]
Quizzes & Graded Exam: Graded Exam
Certificate: Internationally Accredited by CPD (Details in the course)
Course & Exam Location: Online
Course Description:
Dieting just doesn't work.
According to New York Times[1], ninety-five percent of people who lose weight on a diet gain it back, and a significant percentage of people gain back more than they had originally lost, just like in less than a year or two almost everyone who wins the lottery is worse off than before they won it!
Moreover, ninety-two percent of people give up their New Year Resolutions of losing weight and becoming healthier! [2]
These statistics are dismal.
The obesity rate is at an all-time high, but at the same time, weight loss industry racked in sixty billion dollars worldwide. [3]
BUT…there is still hope….
Did you know that….
A 2013 survey revealed that 57 percent of U.S. adults are concerned with eating a healthier diet, 54 percent want to maintain a healthy weight, and 45 percent are trying to reduce stress in their lives.[4]
Yet despite these good intentions, less than one-third of Americans are at a healthy weight,[5] and most are not eating healthy either. The latest data show that nearly 23 percent of Americans report consuming vegetables and fruits less than one time daily.[6]
The 'Few Things' that are probably preventing you from losing weight and being healthy are:
A) Making a lot of mistakes, believing in myths, that are circulated by the 'weight loss' industry. In Module-2, I bust Top 10 Weight Loss Myths & Mistakes that is keeping you weak, fat and flabby!
B) Relying too much on motivation and will power-If you come to think of it, these commodities are not really there when you need them! In Module-4, I will provide you with 11 Weight Loss Habits and an action plan for each habit that will help you lose weight effortlessly.
C) Having the wrong mindset, negative and limited deep satiated beliefs that stop you results in failure every time you try a weight loss transformation. Module-3 is about the Mental Game of Weight Loss. Your mindset, reasons and beliefs are actually more important than you think it is!
Module-1 starts with an introduction about what you can expect from the course, it discusses basic principles of weight loss, takes help from my fat loss program SHRED and elaborates on 3-phases that any person goes through when trying to lose weight and they can intelligently manoeuvre their caloric intake for best results.
Module-5 provides the best guidelines and strategies when it comes to diet & nutrition.
We already know diet's don't work. If you want permanent weight loss results, these guidelines should be the bedrock of any nutrition plan you wish to follow.
Weight loss is a three-legged stool, mindset, nutrition and training.
In Module-6, you will understand and learn about the best training system that will make losing weight effortless.
At Fabulous body, results of my clients and students are very important for me and I am all for achieving weight loss in the fastest way possible.
BUT,
Do note, the fastest way is often the realistic and the enjoyable way.
Only and only if, you enjoy what you eat, and look forward to pursuing the type of activity will it be possible for you to lose weight and keep it off permanently.
Crash dieting, starvation diets, chronic cardio, may help you drop the weighing scale the fastest, but unfortunately, these methods in the long term, will result in all and more weight bouncing back, leaving you worse off than from where you started!
Diploma in Weight Loss will work on your mindset, show you a realistic and enjoyable way to lose weight, at the same time ensuring that you learn the science behind (you will find dozens of scientific studies quoted) literally everything that I discuss in this course.
21 Weight loss FAQ's and Two comprehensive case studies are provided to better grasp the weight loss concepts discussed.
Lastly, in order to secure your graduate certificate, you need to pass a 50-question Graded Exam. 70% and more will earn you a 'Distinction' mark:)
I will see you on the inside.
Your weight loss coach and instructor
Akash